The Latest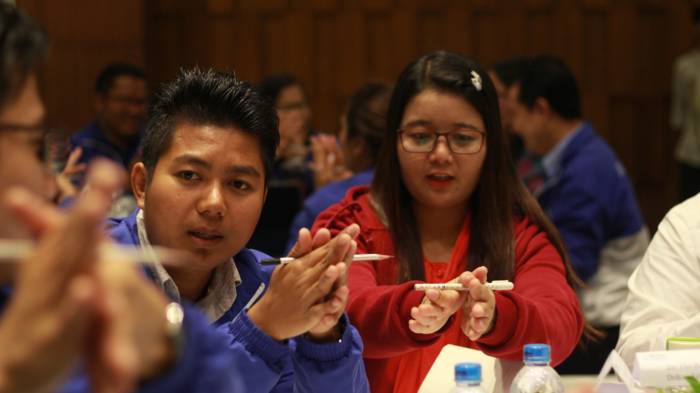 I heard about the DeBoer Fellowship from one of my best friends who is an alum and I also learned about it on the Fellowship Website. The objectives of the DeBoer Fellowship such as Leadership for oneself, Leadership for community and the nation really attracted me to apply the Fellowship. My greatest interest area as a teacher / trainer is to help the community with the needs of educational development and knowledge improvement. I realized that I have the same goal as the Fellowship. So I felt that the Fellowship is able to help me to reach my goal. I also heard that the Fellowship is very diverse with people from different states and divisions. One of my missions is to broaden my network, so I knew that the Fellowship would help me expand my network. With those reasons, I had no doubt to apply to the DeBoer Fellowship and I decided to do so.
Every single topic in FE1 is really valuable to me and they help me so much. Let me pick some of my favorite messages from each topic that help my work force become stronger and gain better performance.
My colleagues and I comprise a colorful rainbow of individual personalities in my work group; I realized this as I learned about the DISC personality assessment taught by Peter and began to think about what personalities my colleagues might have. I shared DISC with my colleagues and we all are glad to know each other's personalities. That brings a productive work environment to us.
I practice "just do it" that I learned from "Design Thinking" topic by David. To me, at the moment, I just have to practice more on reflection. I also started trust building with one of my best friends and it really works well between us. I am now more confident to keep on doing this with others.
During the event, I became sure of what my personal values are and I could assess whether I am on the track of achieving my personal values or not. Also, I was motivated to make "problems into opportunities" from "Personal Value" topic.
Before FE1, I rarely made friends and used to be a quiet person. After I learned "Networking" topic from Ko Kyaw Wai Yar Soe, I made friends and expanded my network because I got the clear message of how networking helps us to reach our aim. So I started making new friendships and spread my network like cancer cells. Now I'm experiencing some effectiveness of networking such as getting information easily and receiving help from my friends and colleagues more.
All the fellows at FE1 amazed me. They shared many experiences and they could ask the right questions that are related to our personal lives. They are really good at personalization. They always try to integrate the knowledge and experience in their lives. I have learned how to make friends. I have become motivated and inspired as I am encouraged by the fellows. Of course I also had much joy, fun and unforgettable memories with them.
Things that I really appreciate about FE1 are for being punctual, making every single session valuable and remarkable, treating individual fellows as a special person, being friendly, welcoming smile and action is seen everywhere in the Event and from everyone. Also I appreciate for creating a safe and secure environment for us, asking daily feedback and immediately responding to us when things arise, having follow up plans and activities after the event. I also like the idea of having PIFW (Pay It Forward Workshop) homework and to share our Go Do Good Project ideas in the next event.
I am very proud to be one of the fellows and get much inspiration since the DeBoer Fellowship team treats us that "We fellows are already Leaders." "And the DeBoer Fellowship team is going along with us on the way we want to go". I will encourage my friends and colleagues how "trust" and "growth mindset" are important for our working environment and to practice building "trust" and developing "growth mindset". I will conduct trainings and share knowledge I have got from the event.
I hope to learn much more from trainers, seniors, facilitators and fellows. I expect more knowledge and shared experiences from everyone. And I am very excited is to hear different experiences with Pay It Forward Workshops and Go Do Good ideas from the Fellows.
Zin Thu Bo Bo lives in Yangon. She works as a Senior Trainer at Myanmar Development Professionals. She is a 2018 Fellow.
One response to "My Experience with Fellow Event 1"